Pennsylvania painters earn spots in elite art show in L.A
.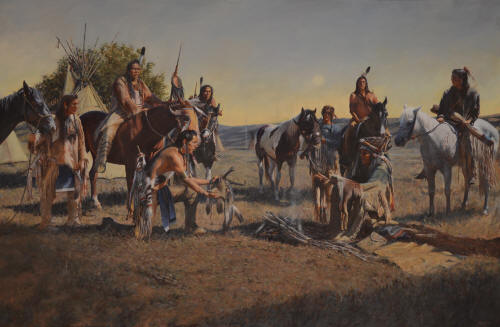 John Fawcett, 'Ceremony of the Horse Mask,' oil, 40 inches by 60 inches ($26,000)
By Rachel Weaver Published: Thursday, Jan. 30, 2014, 8:55 p.m.
Capturing the essence of the American West in artwork requires an appreciation for patriotism, community, family and nature.
Several Pennsylvania residents considered among the best of this genre are joining others for an annual show dedicated to the art form.
The Autry National Center's 17th annual "Masters of the American West Fine Art Exhibition and Sale" includes works by John Buxton of Allison Park, Robert Griffing of Gibsonia and John Fawcett of Abbottstown, Adams County. The event runs from Feb. 1 to March 16.
"It's a hugely popular show," says Amy Scott, curator of visual arts at the Autry in Los Angeles. "With people knowing they just have six weeks to see it, it definitely pulls them in."
The juried exhibition and sale features 82 artists. It attracts about 20,000 visitors each year.
Buxton, who has three pieces in the show, has participated in the Masters for nine years. His featured work includes the oil-on-linen pieces "A Brief Delay at the Wall," "At the Gardens" and "Libation Time."
"It's a great honor to be invited and a great honor to have your pieces exhibited next to the best artists in the country," he says.
Buxton's close friend Griffing has two featured pieces, including an 8-inch by 10-inch piece titled "Defined by His Ancestors," as well as a 40-inch by 60-inch oil called "The Introduction." The latter is based on a letter written by Miss Anne Powell during her visit to Fort Niagara in May 1785, which details her experience meeting "a chief of distinction."
"He spoke English with propriety," Powell wrote, "and returned all the compliments paid him with ease and politeness. As he was not only the handsomest but the best dressed man around."
Griffing set the introduction in a dinner scene with dramatic lighting, the chief standing and taking the hand of the seated woman as others look on.
"A lot of stories are coming about from things people have in their family records that have never been published," says Griffing, who has participated in the show for 12 years. "Just in the last 10 years, a lot is coming to light."
Fawcett has four pieces in the show, the largest of which is "Ceremony of the Horse Mask" at 40 inches by 60 inches. The artist was inspired by the Plains Indians' belief that horse masks helped protect the animal and rider on a spiritual level during battle. The piece shows a tribe elder blessing a mask as other members watch.
"I'm always interested in the story and the history that goes with a piece," says Fawcett, a former veterinarian.
New artists joining the Masters this year include Jeremy Lipking and Dustin Van Wechel.
Six guest artists will be welcomed this year: John Budicin, John Cosby, Lori Forest, Lynn Gertenbach, Conchita O'Kane and Brittany Weistling.
Several other artists have ties to southwestern Pennsylvania. Walter Matia has shown work at the Southern Alleghenies Museum of Art in Ligonier. Artist Dean Mitchell was born in Pittsburgh, then raised in Quincy, Fla. His four featured pieces depict a more contemporary look at the West, including his 20-inch by 30-inch watercolor "Pima Maricopa Neighborhood," featuring a modern-day Indian community.
"I was struck by the poverty," says Mitchell, now of Tampa, Fla. "It reminded me of the rural south. There are a lot of similarities."
Mitchell appreciates the Masters show for the opportunity it presents for artists to interact with collectors.
"The way they put the show together is truly impeccable," he says. "The people who come are very loyal to the artists."